Treasures of the Cilento region
The Cilento region is a real treasure trove. This vast, complex area offers visitors hundreds of kilometres of coastline kissed by the clearest sea in Campania, beaches of the finest sand, cliffs, promontories, and rugged rockfaces. The surrounding area is certainly no less beautiful, boasting hills resplendent with olive groves and forests of chestnut and holm oaks. Dotted throughout this magnificent natural setting, you'll find idyllic towns and archaeological sites.
Located on a cliff overlooking the sea, this little museum is home to numerous archaeological finds discovered in the digs conducted in Palinuro's rich ground.
Cilento and Vallo di Diano national park
Cilento national park is the second-largest in Italy and has been a UNESCO World Heritage site since 1997. This mountainous area furrowed by valleys and rivers is home to rich flora and fauna. Its animal species include golden eagles, Italian hares, martens, wolves, and the Rosalia alpina beetle, while its most important plant is the Primula Palinuri, the symbol of the park.
Paestum archaeological park
The ancient Greek city of Poseidonia, Paestum is one of the best-preserved examples of a Greek/Roman city. Besides the urban layout, there are also three big temples, inside which it's possible to observe the complex columned structure. The National Archaeological Museum of Paestum exhibits exceptional finds from the old city and the area of Poseidonia/Paestum.
Velia/Elea archaeological park
This was an ancient city of Magna Graecia. The tower, port area, "Porta Marina" gate, Greek baths, Roman baths, agora, and "Porta Rosa" gate – Italy's oldest example of a rounded arch – can still be seen today.
Charterhouse of San Lorenzo
The Charterhouse of San Lorenzo in Padula on the plateau of Vallo di Diano is the largest monastic complex in southern Italy as well as one of the most fascinating in Europe thanks to its magnificent architecture and vast wealth of art treasures. Another must-see is the early-Christian baptistry of San Giovanni in Fonte, one of the oldest Christian baptistries throughout the West.
The medieval towns of the Cilento region are guardians of its history and culture, little open-air museums where time seems to stand still. One example is Roscigno vecchia, an abandoned village with UNESCO World Heritage status, where you can walk along deserted streets and squares that seem untouched by time.
The Cilento region is renowned for its products and for its traditional Mediterranean diet. You can enjoy fascinating gastronomic tours, such as a visit to bufala mozzarella producers or various winemakers. Other noteworthy typical products are Menaica anchovies in Marina di Pisciotta, caught with a special net called a "Menaica", and the Lentiscosa Maracuoccio, an ancient legume that only grows in Lentiscosa in the Cilento region.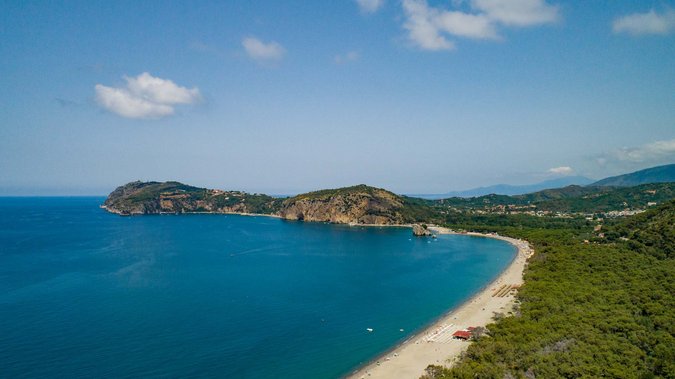 Treasures of the Cilento region